Big news in public transit! Three bits of good news about Huntsville's Public Transit system.
1. Did you know the Huntsville shuttle bus system doubled its ridership? This increase in ridership was due to a zero cost route restructuring in 2012. They added more stops on the routes with the most ridership and removed stops from routes with the least ridership. This simple change doubled ridership citywide.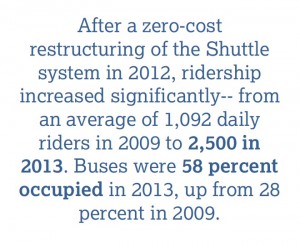 2. New route for Downtown Entertainment Trolley! A free downtown entertainment trolley runs on Friday and Saturday nights. Recently, its route changed to include Campus No. 805, the OTBX pub/package store, and the Twickenham community downtown. Check out www.hoparoundhuntsville.com to see the weekend trolley's new route. You can also use this website to track the trolley when you're downtown on the weekend, no waiting on the curb, wondering where the trolley is. You'll know right where it's at in real time. This route change has increased trolley ridership significantly.
3. For their next upgrade, Huntsville Parking and Public Transit is submitting a grant application to Federal Transit Administration (FTA) that includes several projects that will improve transit access for our elderly and disabled clients. If the City budget funds the projects and the FTA Grant is awarded, the following projects will be implemented.
• Call Notification System
This system automates outbound calls and alerts to Handi-Ride clients. The system is designed to help clients remember the trip by sending an automated call the night before. It allows them to confirm or cancel trip requests, notifies them of trip delays and trip arrivals. It has the ability to make notifications by text, SMS, phone, or email.
Not only does this make riding with Handi-Ride much more convenient, and much easier, for the patrons, but it reduces No Shows and Late Cancellations, that affect the system efficiency. It will reduce the number calls from clients asking when the vehicle will arrive and where it is. This in turns makes our dispatch run smoother and more effectively.
In this day and age, keeping in touch with our elderly and disabled patrons, reassuring them that their trip is scheduled and on-time, should be effortless and beneficial to all. This system is designed for that very purpose.
• Automated Voice Annunciation System
This system announces the next stop arrivals on our fixed route Shuttle system. The system helps the visually impaired and riders not familiar with our bus routes. In addition, this system ensures that we are in compliance with Federal Transit Administration (FTA) guidelines.
Project Elements
• Call Notification System
The project will include licensing for the software notification module that will integrate with the existing paratransit scheduling and dispatching system and installation and implementation.
• Automated Voice Annunciation System
The project will include licensing for the voice annunciation, next stop announcement software module, hardware, installation and implementation.